---
NASA Cassini Paper Model
Free spacecraft kits you can download and print on your printer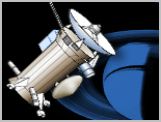 entire Cassini pdf file (60.51 KB)

This Cassini model is owned by the public and presented by Fiddler's Green It is available here as an exclusive offer on a rotating basis with the blessings of Uncle Sam

Paper model kit building is a hobby that is really catching on. All over the world, as printers become more available, paper modelers are growing in number and enthusiasm. Unfortunately, many of the sites they use for downloading the patterns and kits are going offline as the bigger companies push them off the playing field. Of course, this doesn't stop them from enjoying their hobby. Once you have the file on your computer you can print out as many kits as you like and share them with your friends, or you can modify the file and make your own customized kits.

Modeling enthusiasts are some of the paper craft industy's biggest customers. Maybe it's the dream of flying that stays with us even after we grow up. Maybe it's the ability to make something with your own two hands that you can show to your friends. Maybe it's the fact that paper modeling doesn't cost much to do, or maybe it's just that building models is a lot of fun! It's probably all of these things, but for me it simply because papermodelers always seem to be great friends. Think about it... if someone is building a model at home they are less likely to be out causing trouble. Wouldn't you like to know a paper modeler?

You don't have to sign up for anything to get your daily download from Paper Model Airplanes (dot net) and you never have to buy anything, but if you want to get our newsletter you can add your email to our list to receive special offers, paper model news, and links to other sites we think you might like. Click here if you love paper models and want to receive our newsletter.
---